Nor CPS attacks Indian family
KOLKATA: A Kolkata actress playing a Pakistani character in a Norwegian film has been selected to compete at the Toronto International Film. The Norwegian embassy in Delhi, when contacted, said they were ascertaining the facts from the authorities in Oslo. Norway row: Indian parents sentenced to 18 months in jail. World hidden Dec 04 With inputs from PTI. Updated Date: Dec 04, PM.
Norway row: Indian parents sentenced to 18 months in jail - Firstpost
Aryan is in custody since December His parents have been accused of child abuse. The mother of Aryan, the five-year-old child in foster custody of the government of Norway, has formally sought help from External Affairs Minister Sushma Swaraj. Gurvinderjit Kaur, an Indian passport holder, has written to Sushma Swaraj seeking government of India's intervention in the matter.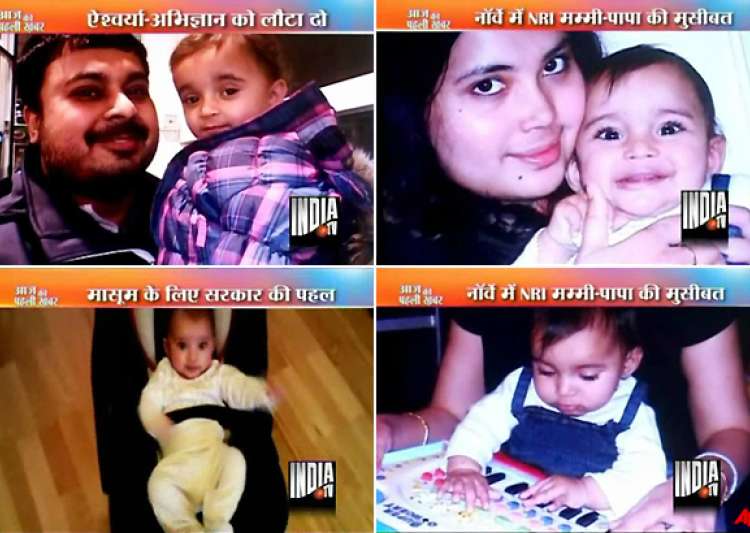 Aryan is in the custody of Norwegian authorities, who have accused his parents of child abuse. His mother Gurvinderjit was questioned for about eight hours about alleged abuse of the child. Aryan's parents have complained that The minor son is daily served porridge and bread while he is fond of Indian food.
They also said that Aryan was psychologically stressed when they saw him in the custody of Norwegian authorities. Sushma Swaraj said on Friday that India would provide help on the request of the mother of the boy, who has been taken away by the Norway authorities.
The Norwegian embassy in New Delhi had called for 'restraint' from India in the case. The Norwegian authorities assured India that the case was being handled with 'complete sensitivity and awareness'. Norway's reaction came in the wake of Sushma Swaraj seeking report from the Indian Ambassador in Oslo after Aryan's parents alleged that the Norwegian authorities took away their five-year-old child on frivolous complaint of abuse.
The Norwegian state is trying to blackmail everyone to shut up about Norwegian child "protection" atrocities as a condition of letting the Indian children out of their clutches.
That way Norway can: Another case involving India, because the child's mother is Indian the father is Swedishis that of Domenic Johansson, taken by Swedish police on behalf of the Swedish CPS off an aeroplane to stop him and his parents from going to India, and then abducted by Swedish CPS. The charge against the parents was that they wanted home schooling for Domenic: Home schooled boy snatched from plane in Sweden".
There are people trying to fight against this criminal abuse perpetuated by our state, of course, but they themselves are often threatened.
Anyone trying to help children who flee the CPS is prosecuted and jailed. That picture has been taken precisely from the r-b-v website. So, some intelligent Indians seem to have discovered "us". It warms our hearts. Although CPS persecution in Norway happens mostly to Norwegian families, foreign families are disproportionately represented.
One case, with the same head of social services, Gunnar Toresen, as in the Indian case, concerns two Turkish children, a case about which I have numerous details. I wrote about it in The case has recently come to life again because at long last a Stavanger newspaper has gone after some details of the city of Stavanger having paid out half a million crowns to be spent as graft to take the children illegally out of Turkey.
The man who engineered this is a private investigator who previously worked for the Norwegian crime force and now did this job for the CPS.
But in my view, there are far more important facts: The children had been placed with a Norwegian foster "father" who had already been accused by two previous foster girls to have abused them sexually.
No attention was paid to this, of course, since the CPS do not tolerate criticism of their foster"parents". The boys were kidnapped and taken back to Norway, to the very same foster "father" and his partner.
Back inthe social services and their Norwegian lawyer derided the boys' parents in a Turkish court for making such claims of abuse, expressing contempt and irony towards the parents, holding that the mother wanted her boys back out of prestige and not out of love, since she made no attempt at that time to get back her daughter, only her sons.
The mother had been only 14 when her daughter was born, and the CPS had immediately taken the daughter because of the mother's "immaturity" and had never let her know even where her daughter was. The sons were born much later and had lived with their parents for several years before they were taken, and besides, it was possible for the parents to find them, whereas the Norwegian authorities had made it impossible to find the daughter.
Norway row: Indian parents sentenced to 18 months in jail
I am full of admiration about the actions taken by the families of this Indian couple Bhattacharya and Indian people and newspapers in general. You need to continue being on the alert: It was foreseeable that Norway might try blackmail in the form of making it a condition for returning the Indian children to their family that everybody must promise to shut up about the case. In that way Norway can continue what they do, the kangaroo courts can go on as before, foster "parents" and clinical psychologists can go on earning money, the myriad social workers trained each year can get jobs.